Warning
: file_get_contents(index.php.bak): failed to open stream: No such file or directory in
/home/wonetwo/public_html/wp-includes/plugin.php
on line
432
Warning
: file_get_contents(index.php.bak): failed to open stream: No such file or directory in
/home/wonetwo/public_html/wp-includes/plugin.php
on line
432
Warning
: file_get_contents(index.php.bak): failed to open stream: No such file or directory in
/home/wonetwo/public_html/wp-includes/plugin.php
on line
432
Warning
: file_get_contents(index.php.bak): failed to open stream: No such file or directory in
/home/wonetwo/public_html/wp-includes/plugin.php
on line
432
Warning
: file_get_contents(index.php.bak): failed to open stream: No such file or directory in
/home/wonetwo/public_html/wp-includes/plugin.php
on line
432
Warning
: file_get_contents(index.php.bak): failed to open stream: No such file or directory in
/home/wonetwo/public_html/wp-includes/plugin.php
on line
432
Warning
: file_get_contents(index.php.bak): failed to open stream: No such file or directory in
/home/wonetwo/public_html/wp-includes/plugin.php
on line
432
Warning
: file_get_contents(index.php.bak): failed to open stream: No such file or directory in
/home/wonetwo/public_html/wp-includes/plugin.php
on line
432
Warning
: file_get_contents(index.php.bak): failed to open stream: No such file or directory in
/home/wonetwo/public_html/wp-includes/plugin.php
on line
432
Warning
: file_get_contents(index.php.bak): failed to open stream: No such file or directory in
/home/wonetwo/public_html/wp-includes/plugin.php
on line
432
Warning
: file_get_contents(index.php.bak): failed to open stream: No such file or directory in
/home/wonetwo/public_html/wp-includes/plugin.php
on line
432
Warning
: file_get_contents(index.php.bak): failed to open stream: No such file or directory in
/home/wonetwo/public_html/wp-includes/plugin.php
on line
432
Warning
: file_get_contents(index.php.bak): failed to open stream: No such file or directory in
/home/wonetwo/public_html/wp-includes/plugin.php
on line
432
Warning
: file_get_contents(index.php.bak): failed to open stream: No such file or directory in
/home/wonetwo/public_html/wp-includes/plugin.php
on line
432
Notice
: Undefined variable: active_class in
/home/wonetwo/public_html/wp-content/themes/Divi/Divi/functions.php
on line
9347
Warning
: file_get_contents(index.php.bak): failed to open stream: No such file or directory in
/home/wonetwo/public_html/wp-includes/plugin.php
on line
432
Warning
: file_get_contents(index.php.bak): failed to open stream: No such file or directory in
/home/wonetwo/public_html/wp-includes/plugin.php
on line
432
Warning
: file_get_contents(index.php.bak): failed to open stream: No such file or directory in
/home/wonetwo/public_html/wp-includes/plugin.php
on line
432
Warning
: file_get_contents(index.php.bak): failed to open stream: No such file or directory in
/home/wonetwo/public_html/wp-includes/plugin.php
on line
432
Warning
: file_get_contents(index.php.bak): failed to open stream: No such file or directory in
/home/wonetwo/public_html/wp-includes/plugin.php
on line
432
Warning
: file_get_contents(index.php.bak): failed to open stream: No such file or directory in
/home/wonetwo/public_html/wp-includes/plugin.php
on line
432
Warning
: file_get_contents(index.php.bak): failed to open stream: No such file or directory in
/home/wonetwo/public_html/wp-includes/plugin.php
on line
432
Warning
: file_get_contents(index.php.bak): failed to open stream: No such file or directory in
/home/wonetwo/public_html/wp-includes/plugin.php
on line
432
Warning
: file_get_contents(index.php.bak): failed to open stream: No such file or directory in
/home/wonetwo/public_html/wp-includes/plugin.php
on line
432
Warning
: file_get_contents(index.php.bak): failed to open stream: No such file or directory in
/home/wonetwo/public_html/wp-includes/plugin.php
on line
432
Warning
: file_get_contents(index.php.bak): failed to open stream: No such file or directory in
/home/wonetwo/public_html/wp-includes/plugin.php
on line
432
Warning
: file_get_contents(index.php.bak): failed to open stream: No such file or directory in
/home/wonetwo/public_html/wp-includes/plugin.php
on line
432
Warning
: file_get_contents(index.php.bak): failed to open stream: No such file or directory in
/home/wonetwo/public_html/wp-includes/plugin.php
on line
432
Warning
: file_get_contents(index.php.bak): failed to open stream: No such file or directory in
/home/wonetwo/public_html/wp-includes/plugin.php
on line
432
Warning
: file_get_contents(index.php.bak): failed to open stream: No such file or directory in
/home/wonetwo/public_html/wp-includes/plugin.php
on line
432
Warning
: file_get_contents(index.php.bak): failed to open stream: No such file or directory in
/home/wonetwo/public_html/wp-includes/plugin.php
on line
432
Warning
: file_get_contents(index.php.bak): failed to open stream: No such file or directory in
/home/wonetwo/public_html/wp-includes/plugin.php
on line
432
Warning
: file_get_contents(index.php.bak): failed to open stream: No such file or directory in
/home/wonetwo/public_html/wp-includes/plugin.php
on line
432
Warning
: file_get_contents(index.php.bak): failed to open stream: No such file or directory in
/home/wonetwo/public_html/wp-includes/plugin.php
on line
432
Warning
: file_get_contents(index.php.bak): failed to open stream: No such file or directory in
/home/wonetwo/public_html/wp-includes/plugin.php
on line
432
Warning
: file_get_contents(index.php.bak): failed to open stream: No such file or directory in
/home/wonetwo/public_html/wp-includes/plugin.php
on line
432
Warning
: file_get_contents(index.php.bak): failed to open stream: No such file or directory in
/home/wonetwo/public_html/wp-includes/plugin.php
on line
432
Warning
: file_get_contents(index.php.bak): failed to open stream: No such file or directory in
/home/wonetwo/public_html/wp-includes/plugin.php
on line
432
Warning
: file_get_contents(index.php.bak): failed to open stream: No such file or directory in
/home/wonetwo/public_html/wp-includes/plugin.php
on line
432
Warning
: file_get_contents(index.php.bak): failed to open stream: No such file or directory in
/home/wonetwo/public_html/wp-includes/plugin.php
on line
432
Warning
: file_get_contents(index.php.bak): failed to open stream: No such file or directory in
/home/wonetwo/public_html/wp-includes/plugin.php
on line
432
Warning
: file_get_contents(index.php.bak): failed to open stream: No such file or directory in
/home/wonetwo/public_html/wp-includes/plugin.php
on line
432
Warning
: file_get_contents(index.php.bak): failed to open stream: No such file or directory in
/home/wonetwo/public_html/wp-includes/plugin.php
on line
432
Warning
: file_get_contents(index.php.bak): failed to open stream: No such file or directory in
/home/wonetwo/public_html/wp-includes/plugin.php
on line
432
Warning
: file_get_contents(index.php.bak): failed to open stream: No such file or directory in
/home/wonetwo/public_html/wp-includes/plugin.php
on line
432
Warning
: file_get_contents(index.php.bak): failed to open stream: No such file or directory in
/home/wonetwo/public_html/wp-includes/plugin.php
on line
432
Warning
: file_get_contents(index.php.bak): failed to open stream: No such file or directory in
/home/wonetwo/public_html/wp-includes/plugin.php
on line
432
Warning
: file_get_contents(index.php.bak): failed to open stream: No such file or directory in
/home/wonetwo/public_html/wp-includes/plugin.php
on line
432
Warning
: file_get_contents(index.php.bak): failed to open stream: No such file or directory in
/home/wonetwo/public_html/wp-includes/plugin.php
on line
432
Warning
: file_get_contents(index.php.bak): failed to open stream: No such file or directory in
/home/wonetwo/public_html/wp-includes/plugin.php
on line
432
Warning
: file_get_contents(index.php.bak): failed to open stream: No such file or directory in
/home/wonetwo/public_html/wp-includes/plugin.php
on line
432
Warning
: file_get_contents(index.php.bak): failed to open stream: No such file or directory in
/home/wonetwo/public_html/wp-includes/plugin.php
on line
432
Warning
: file_get_contents(index.php.bak): failed to open stream: No such file or directory in
/home/wonetwo/public_html/wp-includes/plugin.php
on line
432
Warning
: file_get_contents(index.php.bak): failed to open stream: No such file or directory in
/home/wonetwo/public_html/wp-includes/plugin.php
on line
432
Warning
: file_get_contents(index.php.bak): failed to open stream: No such file or directory in
/home/wonetwo/public_html/wp-includes/plugin.php
on line
432
Warning
: file_get_contents(index.php.bak): failed to open stream: No such file or directory in
/home/wonetwo/public_html/wp-includes/plugin.php
on line
432
Warning
: file_get_contents(index.php.bak): failed to open stream: No such file or directory in
/home/wonetwo/public_html/wp-includes/plugin.php
on line
432
Warning
: file_get_contents(index.php.bak): failed to open stream: No such file or directory in
/home/wonetwo/public_html/wp-includes/plugin.php
on line
432
Warning
: file_get_contents(index.php.bak): failed to open stream: No such file or directory in
/home/wonetwo/public_html/wp-includes/plugin.php
on line
432
Warning
: file_get_contents(index.php.bak): failed to open stream: No such file or directory in
/home/wonetwo/public_html/wp-includes/plugin.php
on line
432
Warning
: file_get_contents(index.php.bak): failed to open stream: No such file or directory in
/home/wonetwo/public_html/wp-includes/plugin.php
on line
432
Warning
: file_get_contents(index.php.bak): failed to open stream: No such file or directory in
/home/wonetwo/public_html/wp-includes/plugin.php
on line
432
Warning
: file_get_contents(index.php.bak): failed to open stream: No such file or directory in
/home/wonetwo/public_html/wp-includes/plugin.php
on line
432
Warning
: file_get_contents(index.php.bak): failed to open stream: No such file or directory in
/home/wonetwo/public_html/wp-includes/plugin.php
on line
432
Warning
: file_get_contents(index.php.bak): failed to open stream: No such file or directory in
/home/wonetwo/public_html/wp-includes/plugin.php
on line
432
Warning
: file_get_contents(index.php.bak): failed to open stream: No such file or directory in
/home/wonetwo/public_html/wp-includes/plugin.php
on line
432
Warning
: file_get_contents(index.php.bak): failed to open stream: No such file or directory in
/home/wonetwo/public_html/wp-includes/plugin.php
on line
432
Warning
: file_get_contents(index.php.bak): failed to open stream: No such file or directory in
/home/wonetwo/public_html/wp-includes/plugin.php
on line
432
Warning
: file_get_contents(index.php.bak): failed to open stream: No such file or directory in
/home/wonetwo/public_html/wp-includes/plugin.php
on line
432
Warning
: file_get_contents(index.php.bak): failed to open stream: No such file or directory in
/home/wonetwo/public_html/wp-includes/plugin.php
on line
432
Warning
: file_get_contents(index.php.bak): failed to open stream: No such file or directory in
/home/wonetwo/public_html/wp-includes/plugin.php
on line
432
Warning
: file_get_contents(index.php.bak): failed to open stream: No such file or directory in
/home/wonetwo/public_html/wp-includes/plugin.php
on line
432
Warning
: file_get_contents(index.php.bak): failed to open stream: No such file or directory in
/home/wonetwo/public_html/wp-includes/plugin.php
on line
432
Warning
: file_get_contents(index.php.bak): failed to open stream: No such file or directory in
/home/wonetwo/public_html/wp-includes/plugin.php
on line
432
Warning
: file_get_contents(index.php.bak): failed to open stream: No such file or directory in
/home/wonetwo/public_html/wp-includes/plugin.php
on line
432
Warning
: file_get_contents(index.php.bak): failed to open stream: No such file or directory in
/home/wonetwo/public_html/wp-includes/plugin.php
on line
432
Warning
: file_get_contents(index.php.bak): failed to open stream: No such file or directory in
/home/wonetwo/public_html/wp-includes/plugin.php
on line
432
Warning
: file_get_contents(index.php.bak): failed to open stream: No such file or directory in
/home/wonetwo/public_html/wp-includes/plugin.php
on line
432
Warning
: file_get_contents(index.php.bak): failed to open stream: No such file or directory in
/home/wonetwo/public_html/wp-includes/plugin.php
on line
432
Warning
: file_get_contents(index.php.bak): failed to open stream: No such file or directory in
/home/wonetwo/public_html/wp-includes/plugin.php
on line
432
Warning
: file_get_contents(index.php.bak): failed to open stream: No such file or directory in
/home/wonetwo/public_html/wp-includes/plugin.php
on line
432
1xbet Giriş ⭐️ 1xbahis Canlı Casino ️ 1x Bet Bahis Yeni Adresi 2022 İçerikBet Güvenilir Mi?Bet Casino 2022In KayıtBet Mobile Bonus PromosyonlarıBet Hangi Bankalarla Anlaşmalı Olarak Çalışmaktadır?Bete Göre Şampiyonlar Liginin En Büyük...
Warning
: file_get_contents(index.php.bak): failed to open stream: No such file or directory in
/home/wonetwo/public_html/wp-includes/plugin.php
on line
432
1xbet Giriş ⭐️ 1xbahis Canlı Casino ️ 1x Bet Bahis Yeni Adresi 2022 İçerikBet Güvenilir Mi?Bet Casino 2022In KayıtBet Mobile Bonus PromosyonlarıBet Hangi Bankalarla Anlaşmalı Olarak Çalışmaktadır?Bete Göre Şampiyonlar Liginin...
Mr Bet Deutschland Gluecksspieltempel InhaltLotto Günstig Spezielle Spielen Beim TestsiegerHand Of The Day: Bekommen Sie Bis Zu 1 000 UsGratiswette Bis über 120 Speichern Sie OkayRabatt jetzt als Lesezeichen, damit Sie baldige Sparungen erzielen...
W7Worldwide for Strategic and Media Consulting has released a short video clip on the occasion of International Women's Day,...
The UNESCO proclaimed Feb. 13 as World Radio Day in 2011, which was later adopted by the UN General Assembly in 2012 as an...
With public relations (PR) expanding its role in the digital landscape and increasingly taking on wider responsibilities, such as social media marketing and digital advertising, it is no surprise that some businesses believe PR, marketing and...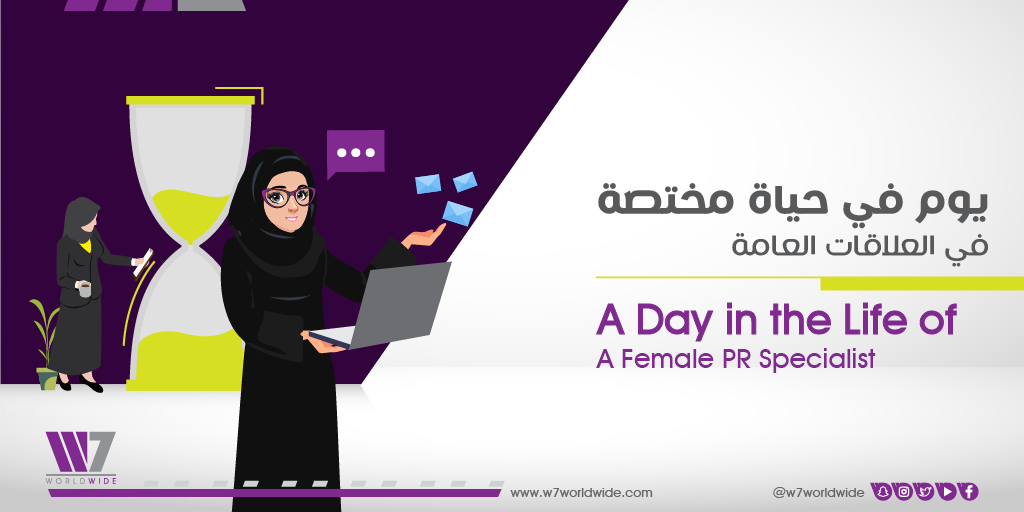 The course of PR has evolved significantly in the last decade, and many career changes have emerged that emphasize the transition of women in the field from secondary roles to main roles involved in the details of the profession of this vital...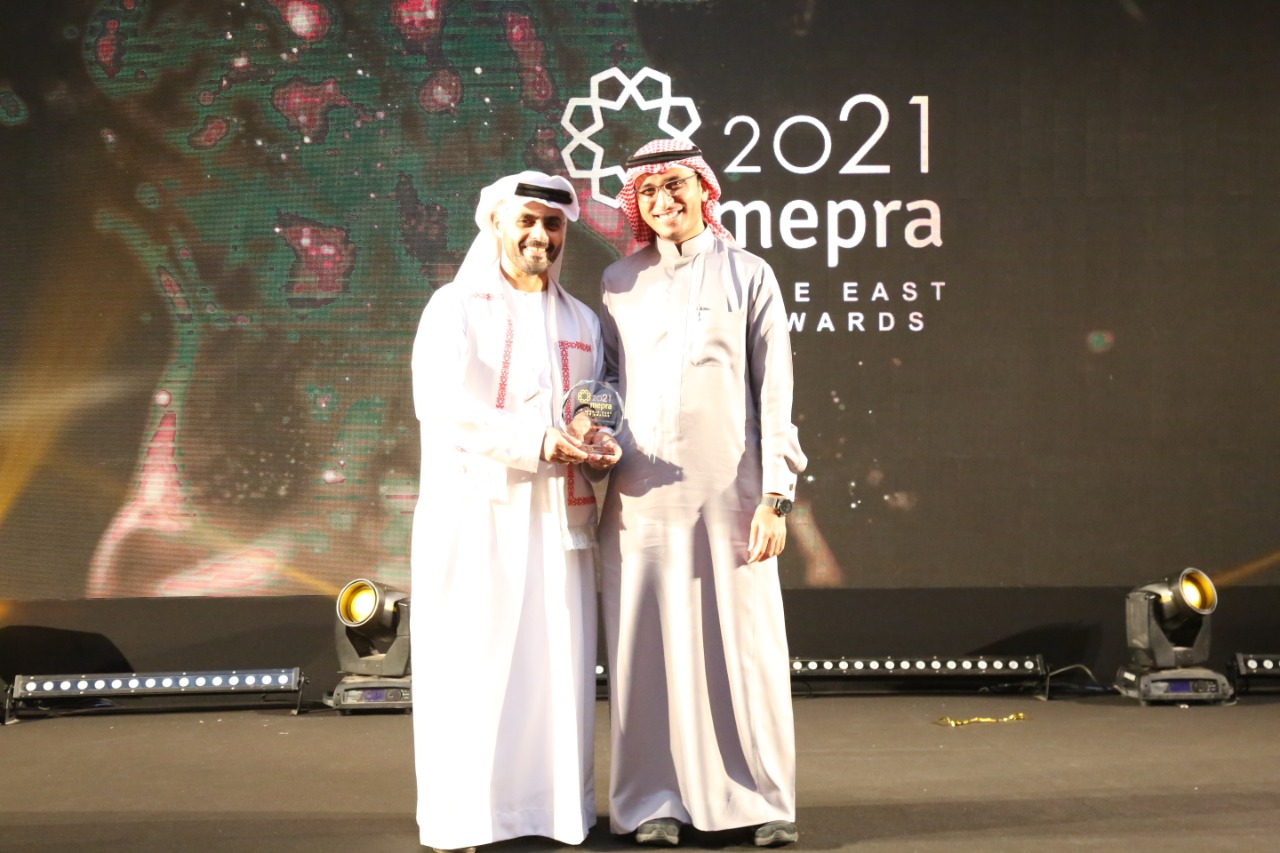 Leading independent communications agency W7Worldwide is the only homegrown Saudi agency to enter and win 3 Middle...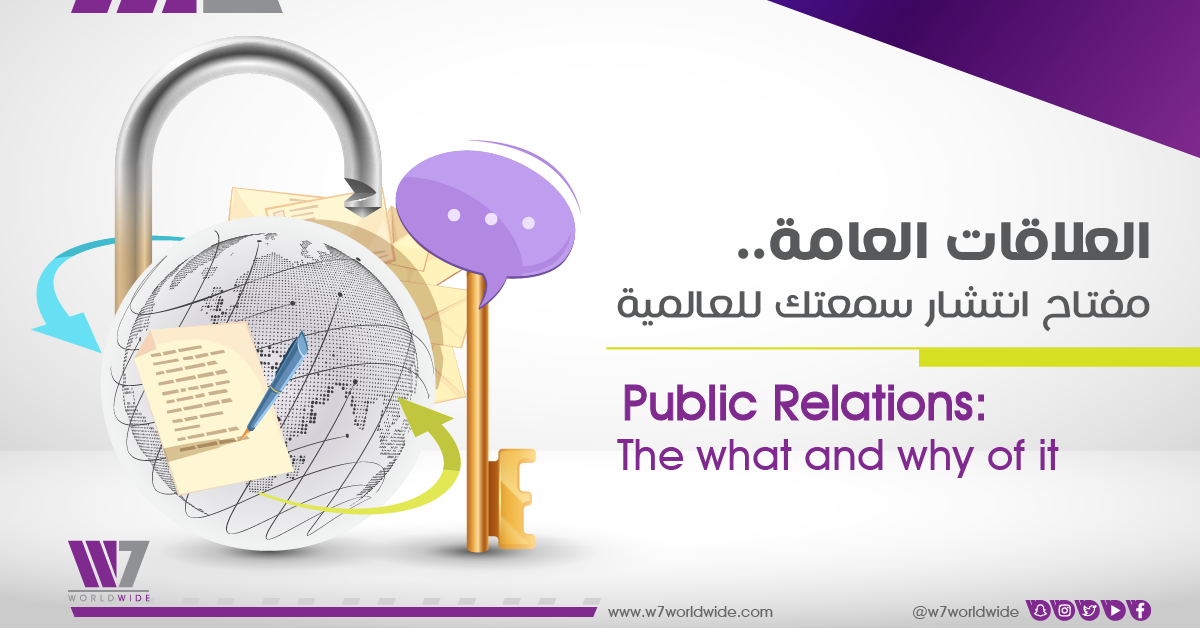 In the simplest of terms, public relations is any formal activity undertaken by a product, company, organization, individual or a proponent of an idea to shape and maintain its image in the eyes of the "public." The "public" referred to here can be...
PR is all about Spin Brands, like individuals, reveal themselves the most in a crisis. We see some excel, some suffer badly and others at their worst.  While Public Relations is very much about image and public perception, now the expectation is...
Despite the increasing prominence of a range of new age communication platforms, television still...
Every business worth its salt today recognizes the important role public relations play in its development. However, some businesses, particularly big organizations that have already established a name for...
Everything starts from your home, so if you are in the "Communication" business, your internal communication process should be very smooth and reliable. Good internal communication is the root of your...
Multi award-winning independent GCC agency W7Worldwide delivered a phenomenally successful communications campaign for MENA ISC 2021.  The Middle East and North Africa Information Security Conference...
W7Worldwide, a Marketing Communications Consultancy Agency, produced a short video to...
On the occasion of International Youth Day, celebrated annually on Aug. 12, W7Worldwide, an award-winning independent marketing...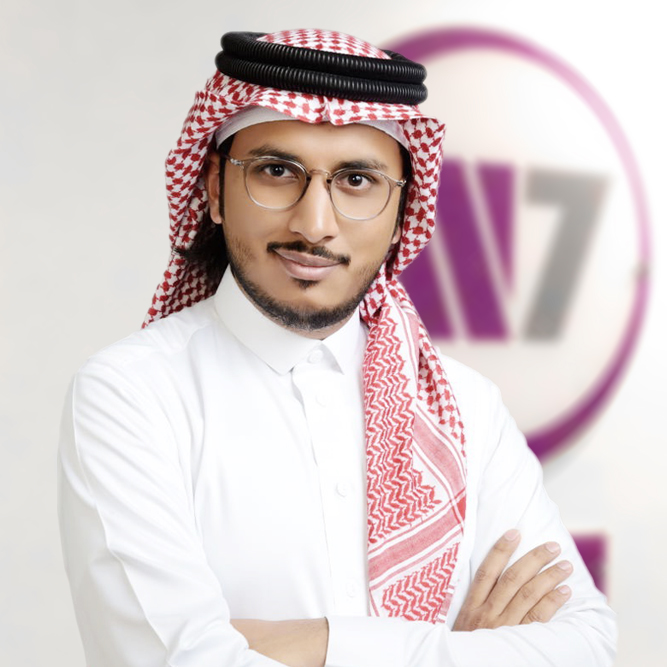 Abdulrahman Inayat* Co-Founder and Director of Multiple Award-Winning Independent Marketing Communications Consultancy Agency W7Worldwide A recent study has shown the UAE and Saudi Arabia emerge as leaders in the MENA region in...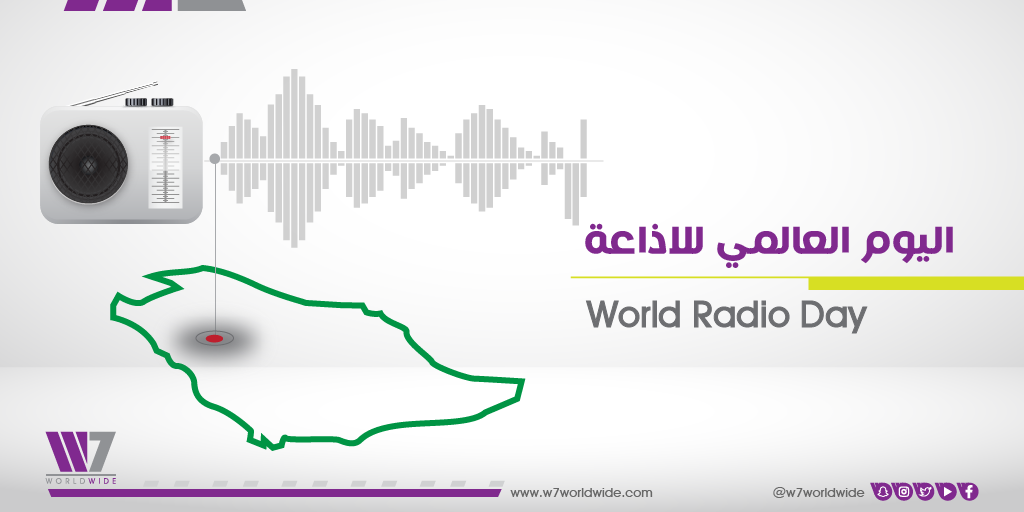 Despite the emergence of new age communication channels and the popularity of social media, the good old radio is not going...
COVID-19 had an immediate impact on the events industry with conferences and exhibitions cancelled due to global travel restrictions and social distancing measures.  After the initial shock to the industry, event organizers quickly turned to...
"It is always efficient to know how to prioritize your work strategically. 80% of people struggle in their work based on the lack of work management." -W7Worldwide Team Working efficiently is a key element to a successful business. When all the...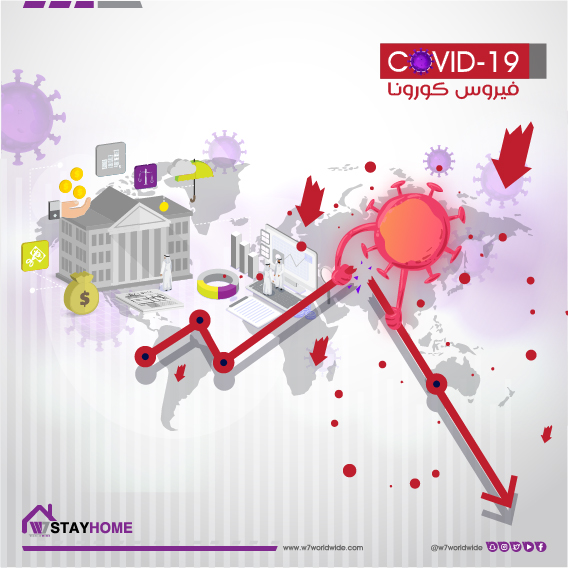 COVID-19 has significantly changed the relationship between business and government as the crisis impacted every country, threatening not only its people, but also their economies.  Governments consolidated their powers to enable rapid decision...
Myth: PR is Just Like Advertising   Consumers perceive PR coverage to be much more credible than...
Good Products Don't Need Publicity A good PR strategy will help highlight your best products - the ones you want...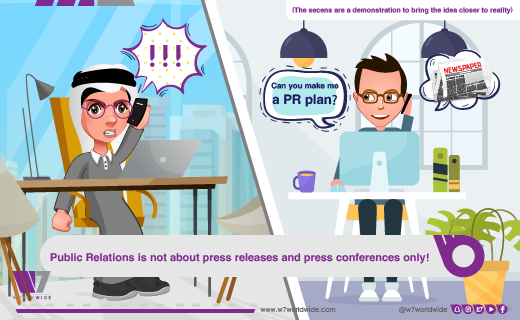 PR is All about Press Releases and Press Conferences While both press releases and press conferences...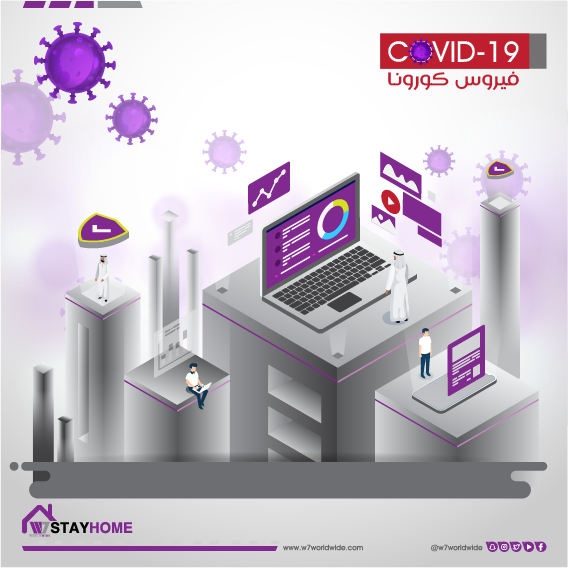 In response to the vast rise in internet and social media usage during the COVID-19 pandemic, W7Worldwide marketing communications consultancy agency sets out a 7-step guide to help companies create an effective Digital PR strategy for the post...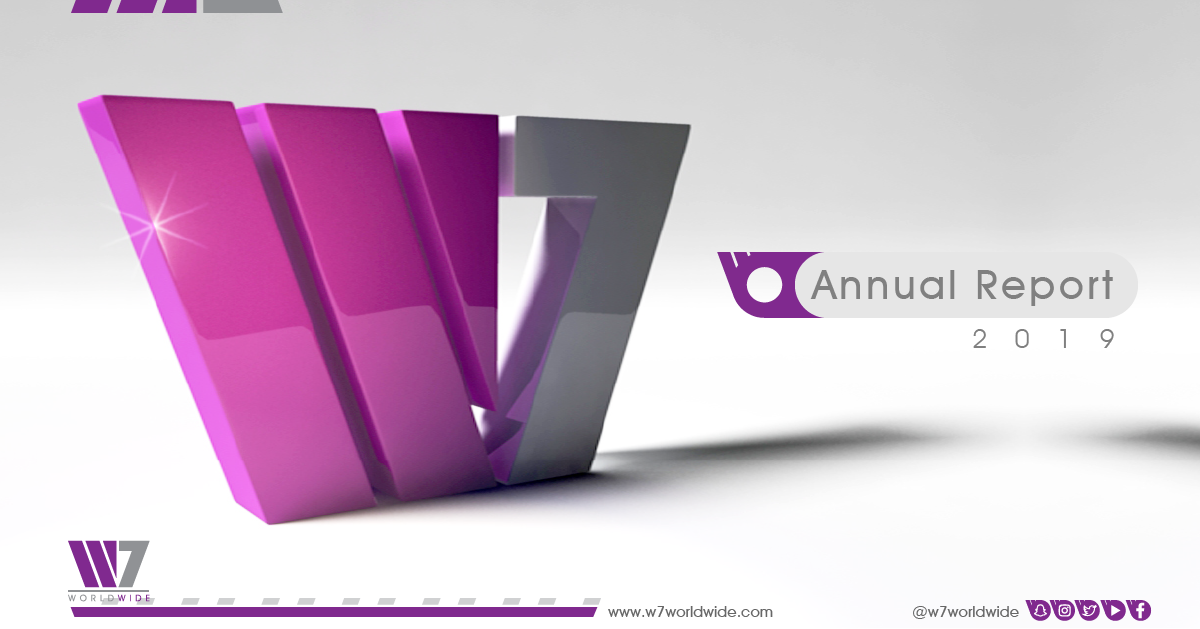 W7Worldwide Marketing Communications Consultancy Agency released its 2019 Annual Report, detailing a solid business performance in achieving a number of extraordinary goals in the public relations, corporate reputation and image management...
A short clip produced by W7Worldwide Marketing Communications Consultancy Agency to celebrate the occasion of Ramadan as a month of kinship, communications and knowledge-sharing, has gained notable recognition across W7Worldwide's social media...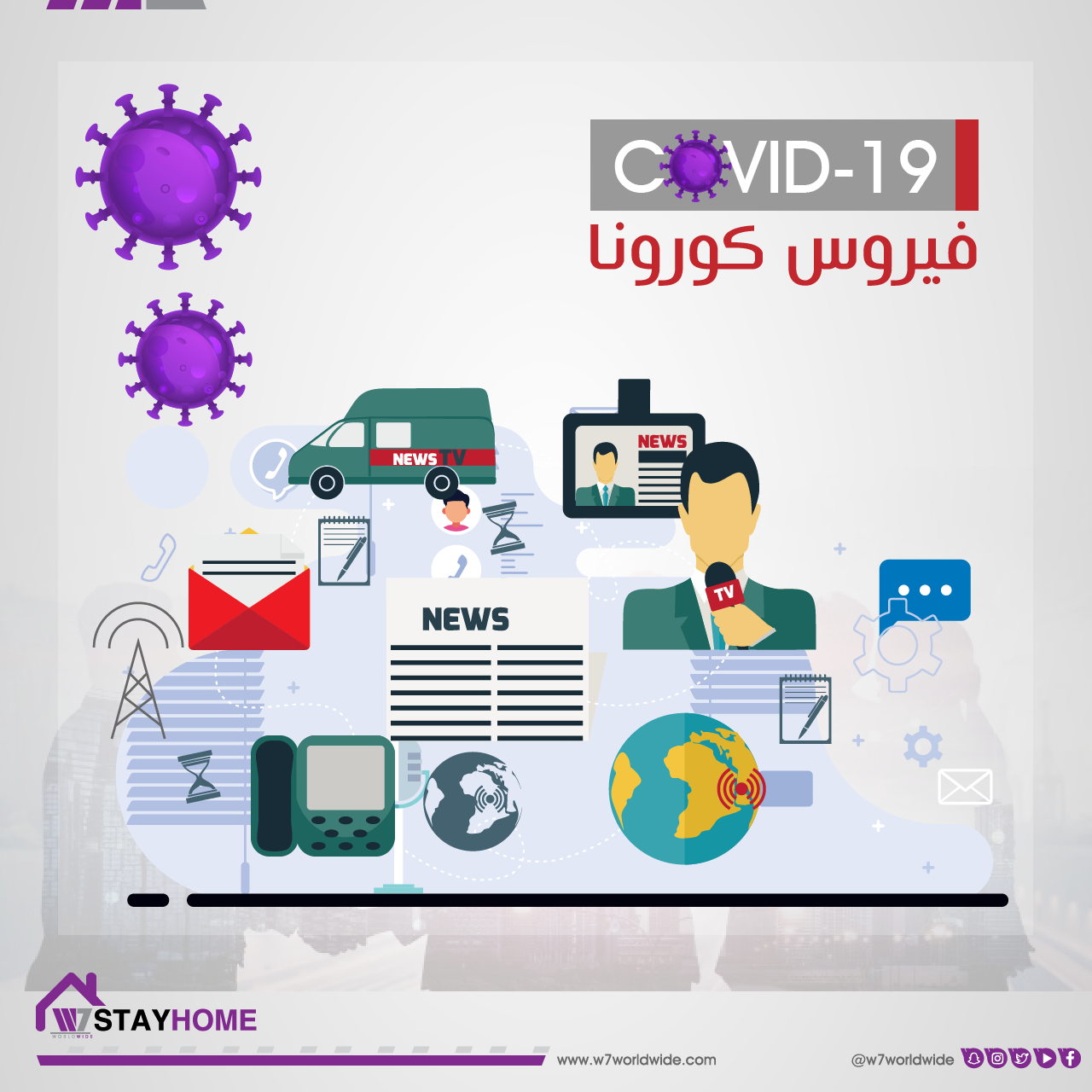 COVID-19 has consumed the news cycle for some months, with the media covering the impacts of the crisis on governments, the public and businesses from all angles. Proactively engaging with the media at this stage needs to be done in a strategic way...
Our Ramadan series for this year has come to an end, after taking you, our readers, on a journey of the fascinating traditions, activities and customs of the people of Najd - Saudi Arabia's central region - during Ramadan, the month of giving and...
The Muslim festival of Eid Al-Fitr is marked with distinct traditions and practices across the six provinces of the Kingdom, each with a unique charm of its own. What unifies these celebrations across Saudi Arabia's many regions is the immense...
In Ramadan, when the call to prayer (adhan) at sunset rings out across Najd, the central region of Saudi Arabia, you will experience a sense of spiritual consciousness unlike anything you have experienced before. This is the unique flavor of the...
The unpredictability of COVID-19 has pushed W7Worldwide to work towards developing a guide covering how CEOs can safely lead their organization through Phase 2 of the crisis.  This is the management phase between the containment of the crisis and...
A mosque is much more than a place of worship for Muslims. Mosques also provide a platform for people to network and communicate with each other, in addition to being beautiful architectural structures adorning the streets of a city. Riyadh has no...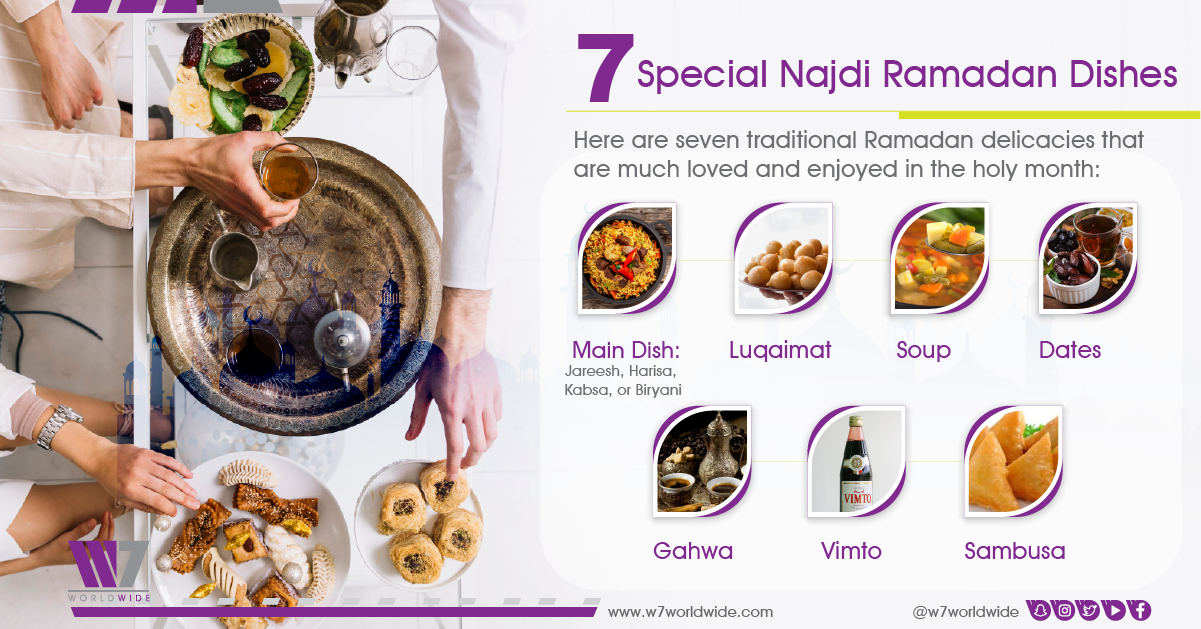 Have you heard the saying in Arabic that roughly translates to: "After midnight, there is no homely place like Riyadh"? The phrase refers to the beauty of Riyadh's cozy weather at night and its welcoming ambiance, which makes the Saudi capital the...
W7Worldwide Marketing Communications Consultancy Agency has released a 7-step guide on how companies and organizations can engage the community during Ramadan through Corporate Social Responsibility campaigns amid the global Covid-19 crisis (Click...
A brand new Ramadan awaits us all and we at W7Worldwide, wish all our friends and followers a blessed month filled with success, good deeds, and happiness. Our annual Ramadan blog series started last year, where it spotlighted the Eastern Province...
To mark the occasion of Ramadan as a month of kinship, community and knowledge-sharing, communications consultancy W7Worldwide reminds us of some of the most significant historic achievements humankind has made in the natural desire to...
As part of its efforts to support organizations through the COVID-19 crisis, communications agency W7Worldwide sets out its 7-step guide for best practice employee engagement and internal communications.  Employees are a key stakeholder group that...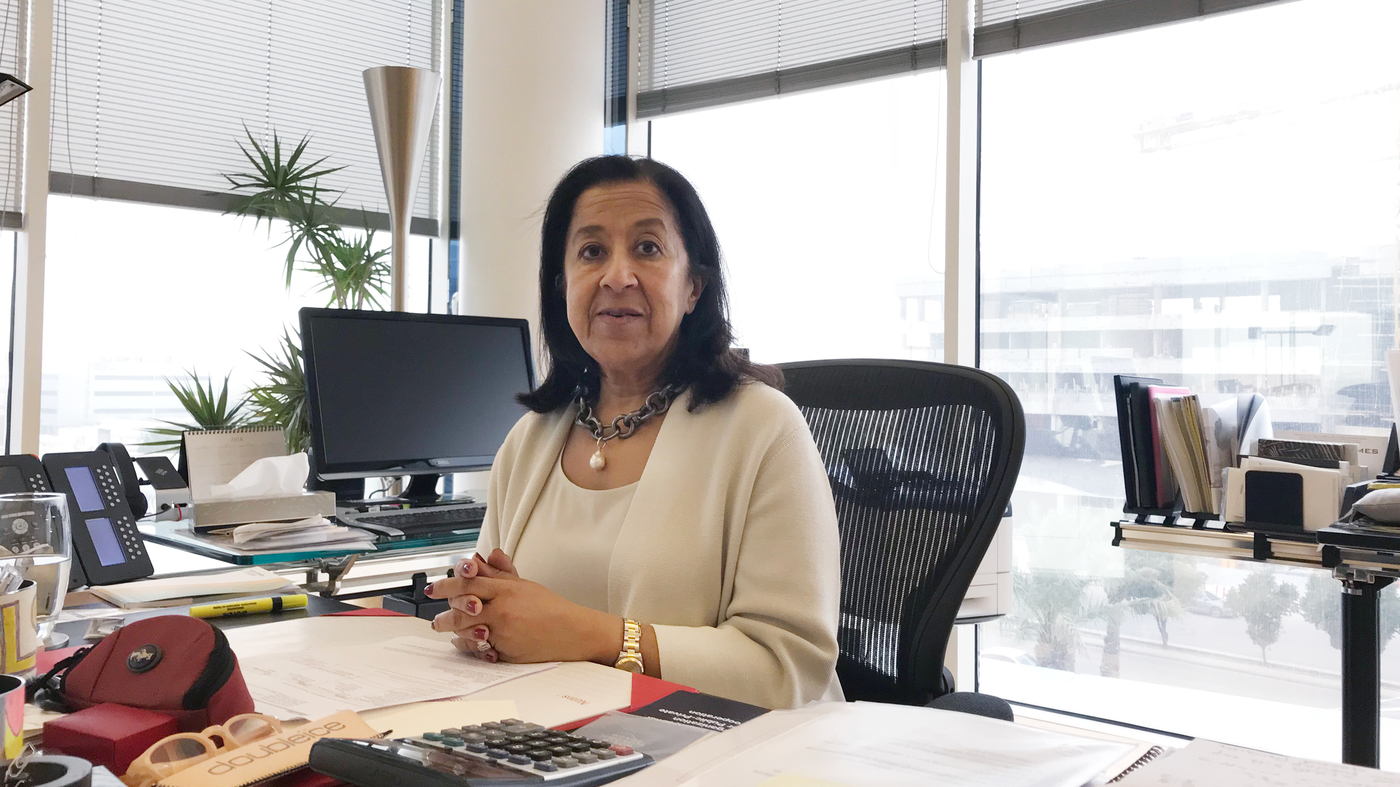 Saudi businesswoman Lubna Olayan has many firsts to her credit. The 64-year old finance tycoon created history by becoming the first woman in Saudi Arabia to run a publicly traded bank after the merger of the Saudi British Bank (SABB) and Alawwal...
The Covid-19 pandemic is escalating fast with the World Health Organisation has declared a global emergency. We are now witnessing several austerity measures including quarantines and curfews to attempt to limit the spread of the virus. For this...
There is no doubt that Princess Reema bint Bandar Al-Saud, the first Saudi woman to serve as an ambassador, is a huge inspiration for all women. With an extraordinary body of pioneering work in both business and politics, she is currently the Saudi...
The Kingdom is witnessing remarkable achievements of Saudi women in all fields. Women in the Kingdom have essentially become drivers of the change we are seeing today, proving to be great assets to the economic transformation of the country, in...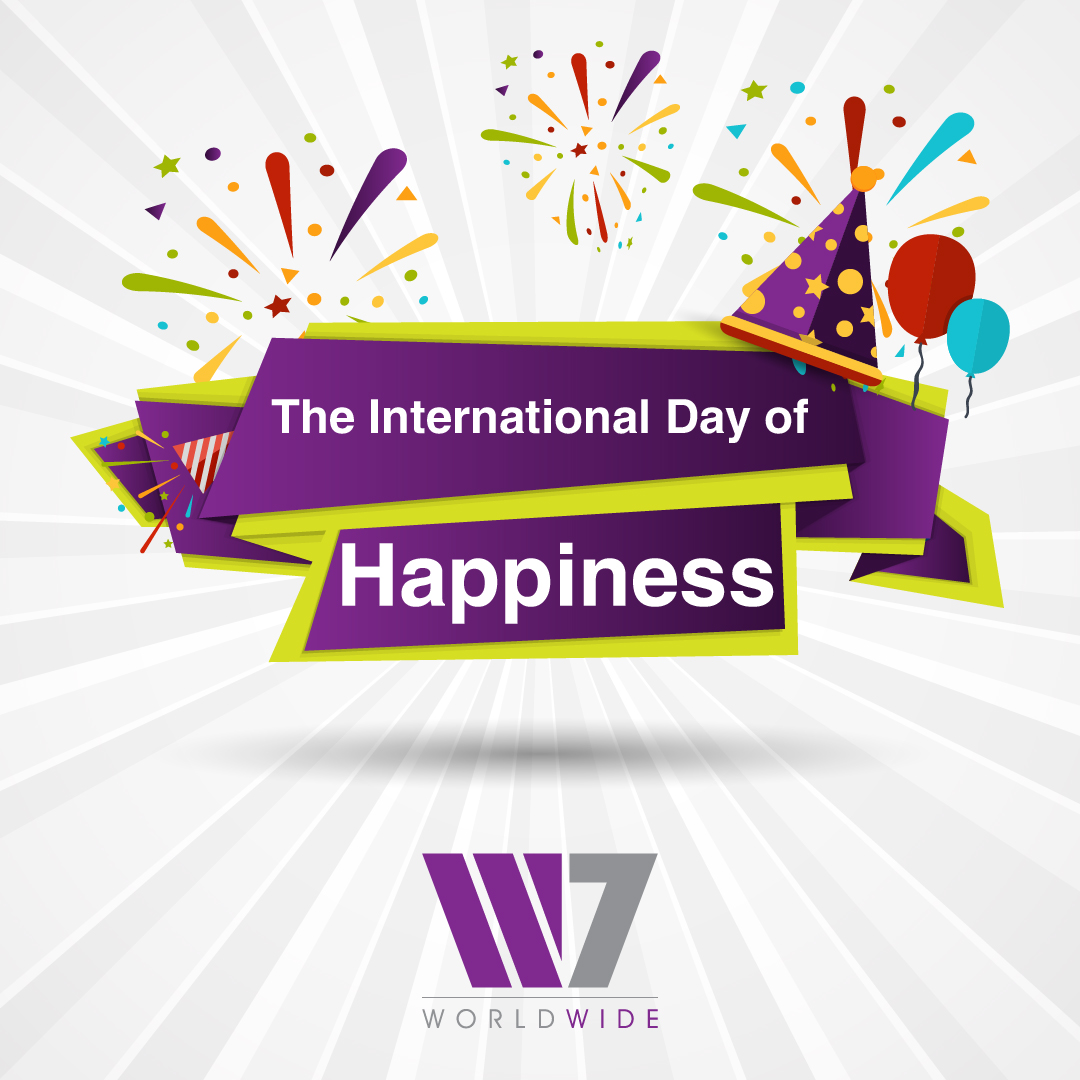 The International Day of Happiness, celebrated worldwide on March 20 every year, was proclaimed by the UN as a way...
The COVID-19 pandemic has escalated faster than anyone anticipated, with the World Health Organization declaring the...
When choosing a PR firm to work with, both local and international businesses looking to enter the market may find themselves asking: Does location matter? The decision to outsource PR support to an international agency located outside the country...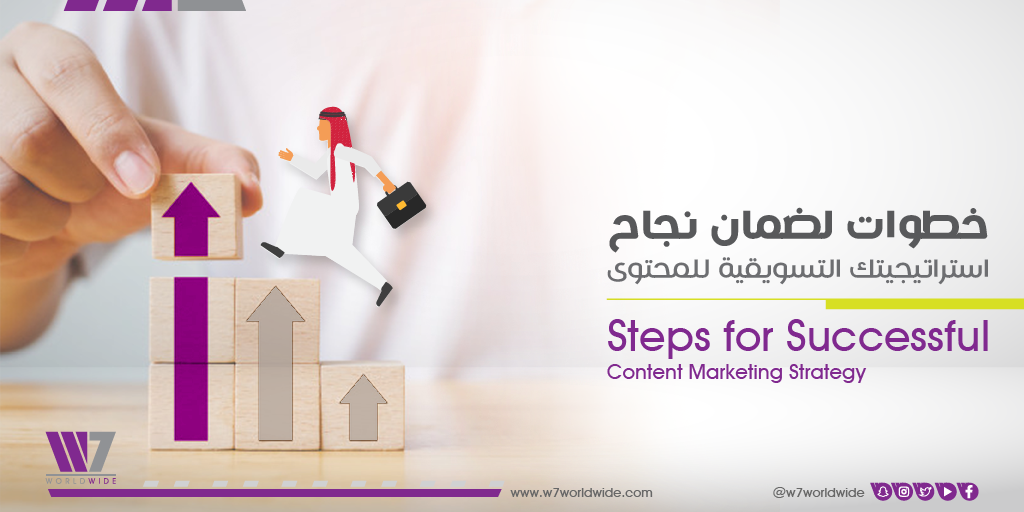 A successful content marketing strategy is the outcome of a clearly defined purpose, proper planning, and careful implementation. Whether it is a targeted campaign or some extensive plan, a business should prepare a well-thought-out foundation of...
Building trusting relationships on the work team is easy in principle, but much more challenging in practice. Trust forms the basis of all relationships and interactions, whether it's professional or personal ones. Collaborative teamwork will only...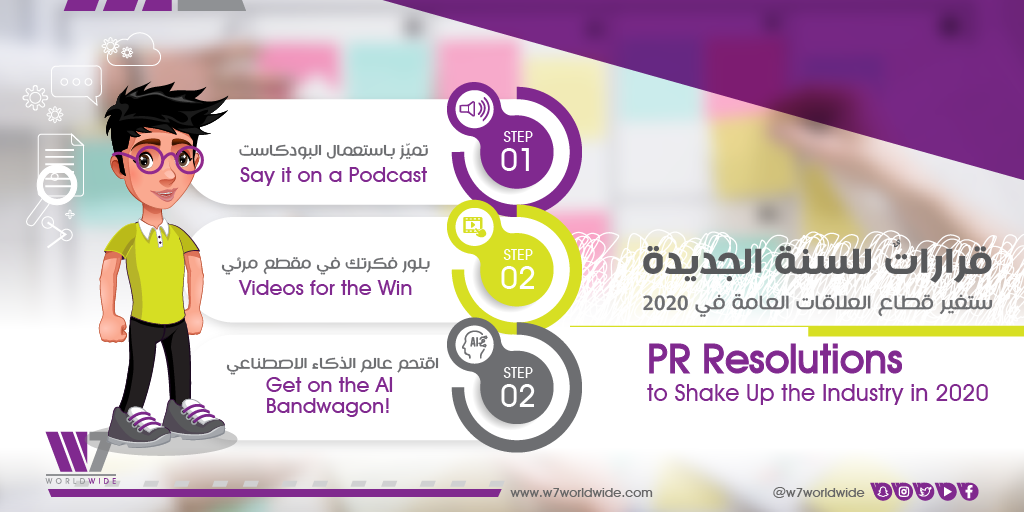 Another New Year, another round of resolutions. It's that time of the year again when most of us will make promises to ourselves regarding health, relationships, spirituality, career, etc. that we probably will never keep. It is also a time to look...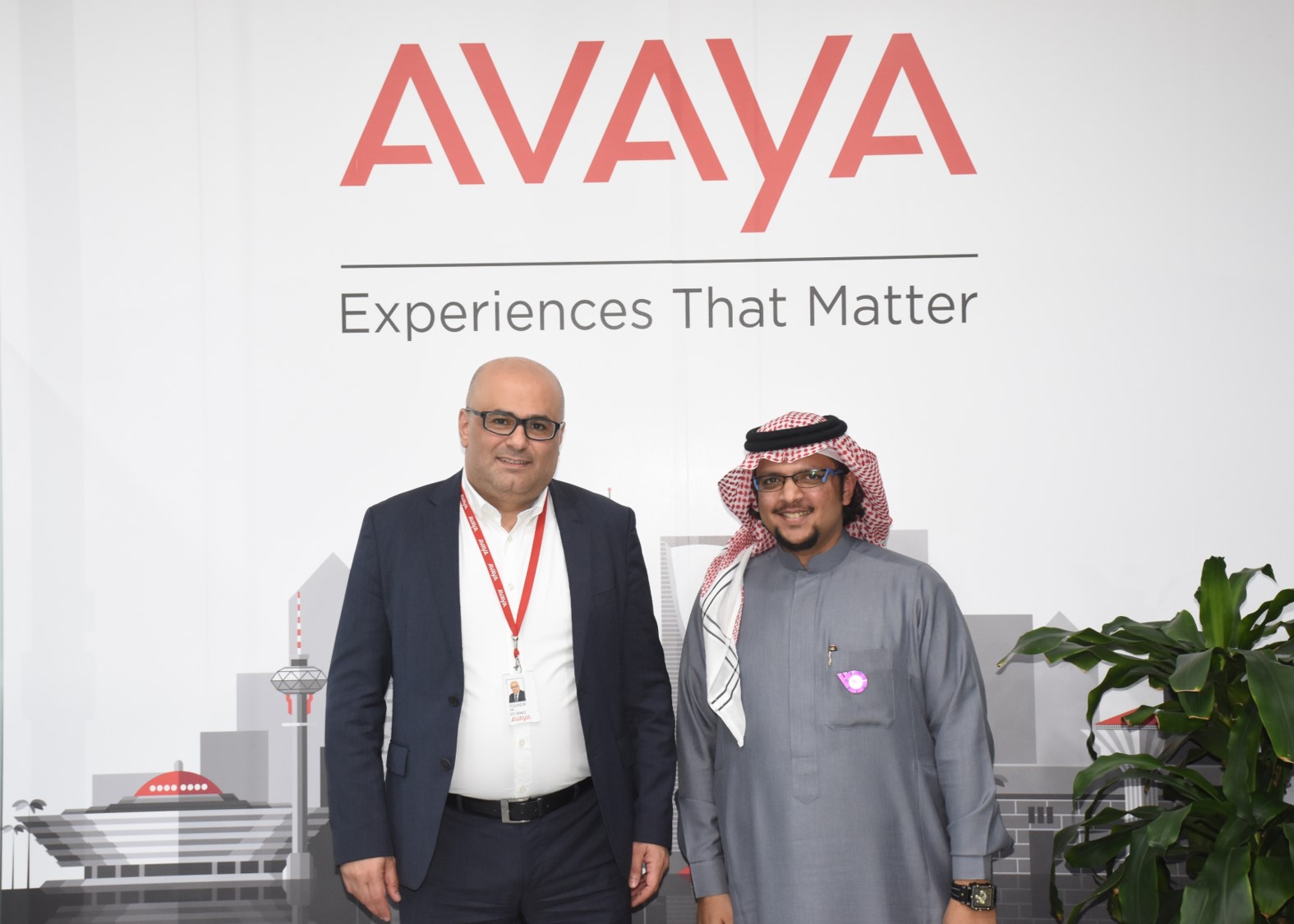 As part of its vision to enhance business and communications strategies, AVAYA, Avaya Holdings Corp. a global leader in solutions to enhance and simplify communications and collaboration, announced W7Worldwide Marketing Communications Consultancy...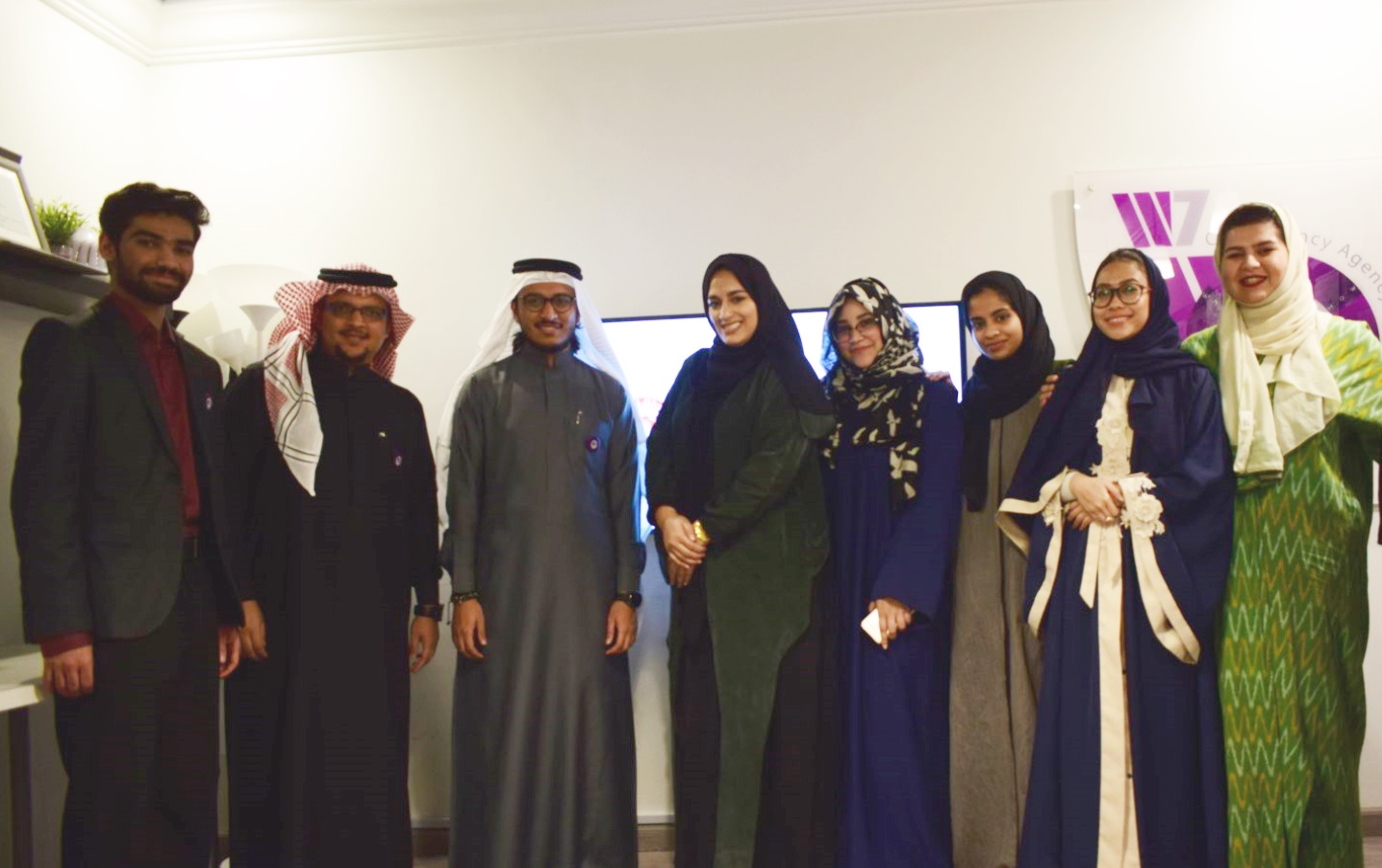 W7Worldwide Marketing Communications Consultancy Agency recently hosted a training session on leadership, public relations and communication skills for a group of Dar Al-Hekma (DAH) University students. The session, which was presented by...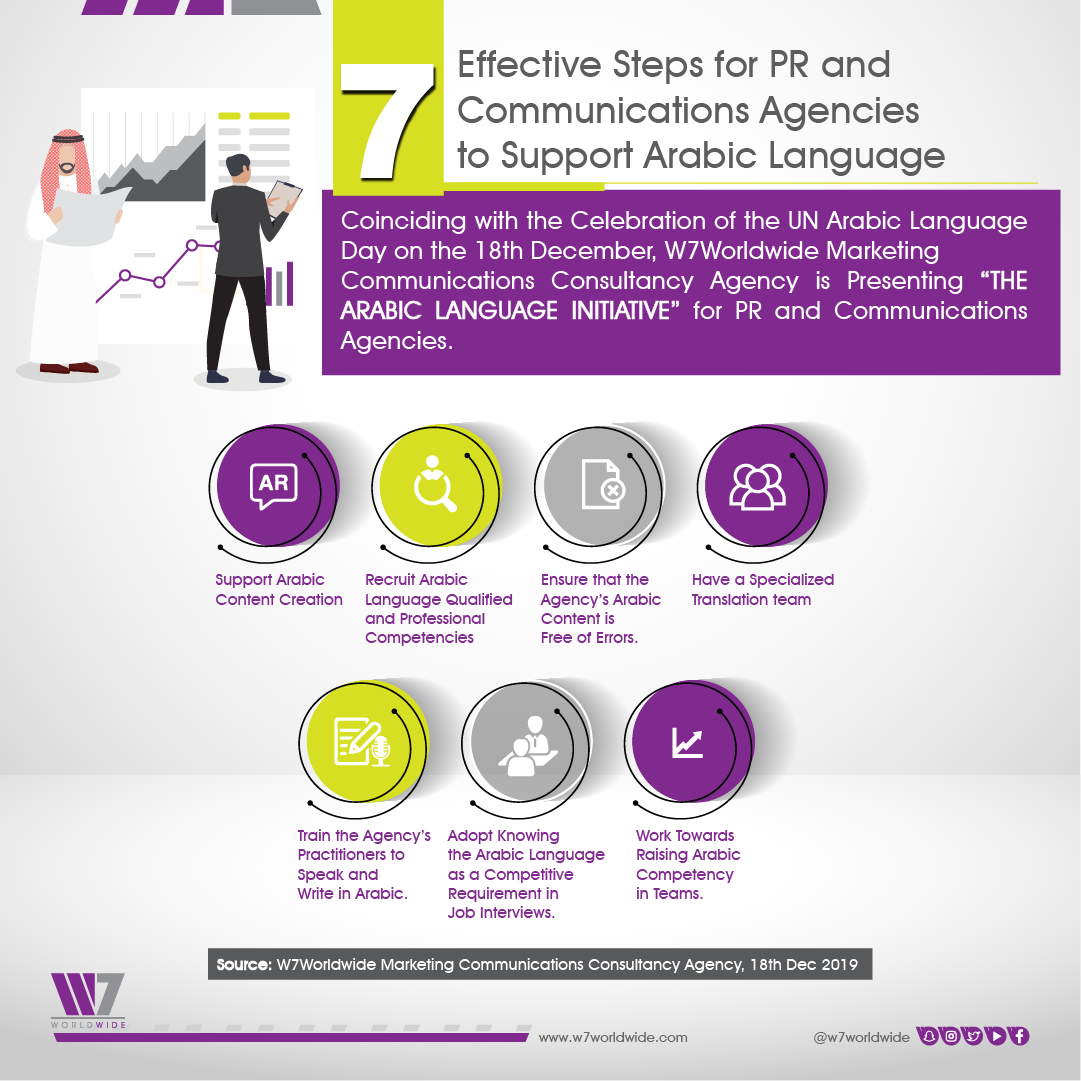 7 Effective Steps for PR and Communications Agencies to Support Arabic Language Coinciding with the celebration of the UN Arabic Language Day on the 18th December, W7Worldwide Marketing Communications Consultancy Agency is presenting "the Arabic...
Abdulrahman Inayat* Every day we receive messages in several forms of communications mediums including newspapers, broadcasts, social media, face to face, touch or even an eye wink. Each form of communication can send you messages that may impact...
On the World Television Day, we take a trip down the memory lane to remember Saudi Television: Over the years, Saudis...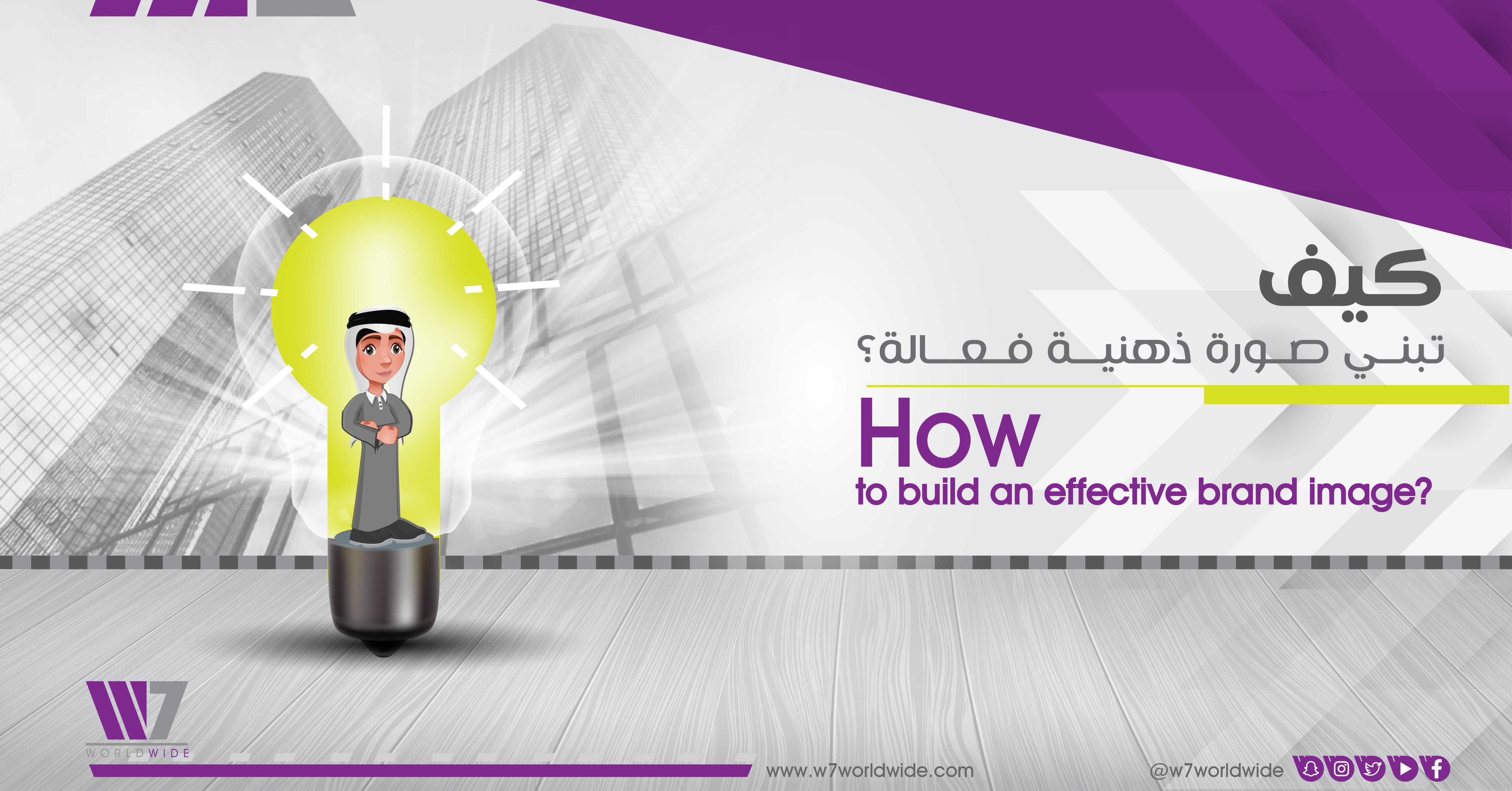 Despite the abundance of information on how to build a brand image since ages, its role in the public relations and communications world has become a hot topic only in the last two decades. This is because the brand image is the manner in which a...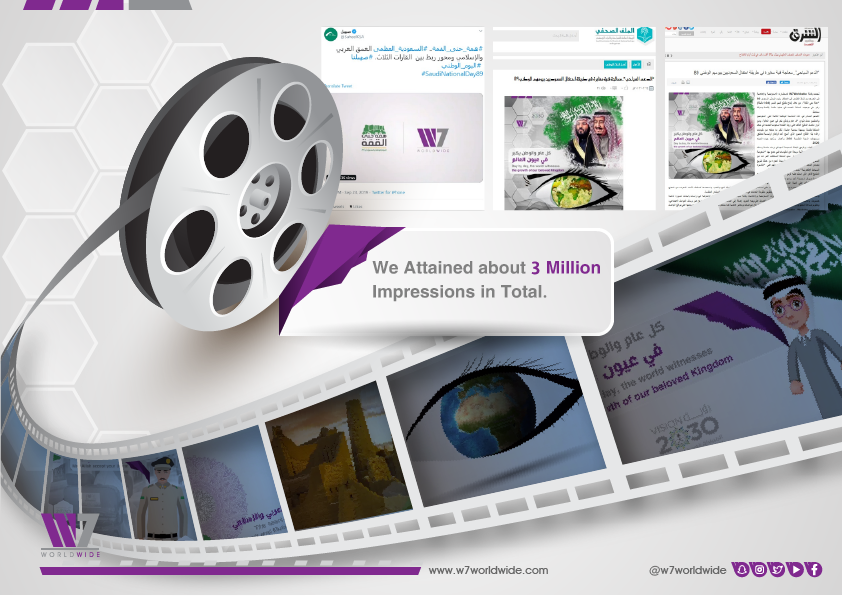 Saudi Arabia celebrates its National Day on the 23rd of September of each year, holding a multitude of celebrations and festivities. It's the perfect opportunity to rejoice all the things that make the cities across the Kingdom special, from its...
The CEO of VirtuPort, Eng. Samer Omar has confirmed that W7Worldwide Marketing Communications Consultancy Agency, has successfully supported in managing the communications of the conference. He explained that W7Worldwide, being MENAISC's partner...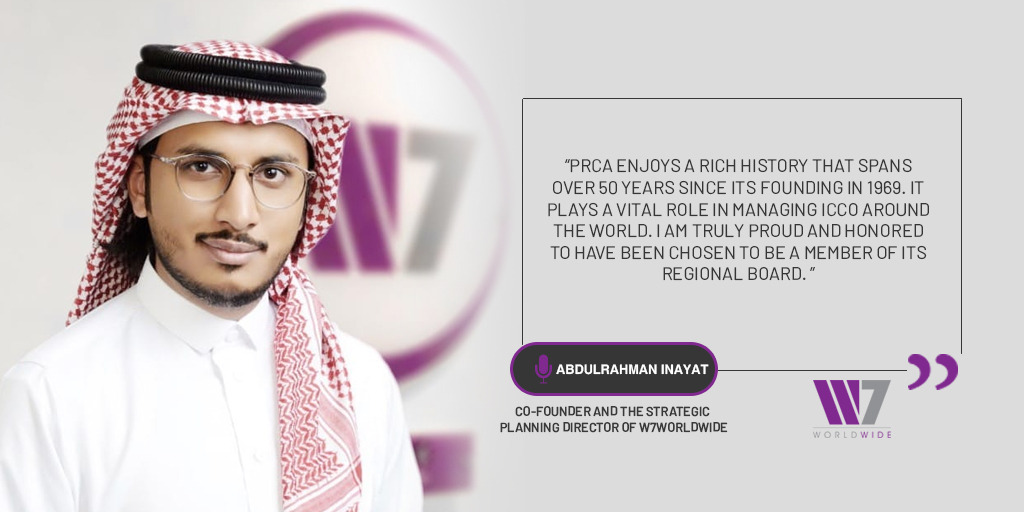 Public Relations and Communications Association (PRCA) has announced the line-up of its inaugural regional board. Abdulrahman Inayat, the co-founder of W7Worldwide, Marketing Communications Consultancy Agency, has been elected to be a member of the...
The narrative about the rise and fall of Elizabeth Holmes - founder of Theranos - highlights how changes within the media business have modified the relationship of PR and the press, specifically in technology. Elizabeth Holmes, through Theranos,...
W7Worldwide Supports Saudi Tourism with a Short Video Jeddah, KSA,...
Global communications professionals have stated that digital disruption and transformation is one of the biggest challenges facing the traditional public relations and #communications companies on regional and international levels, stressing the...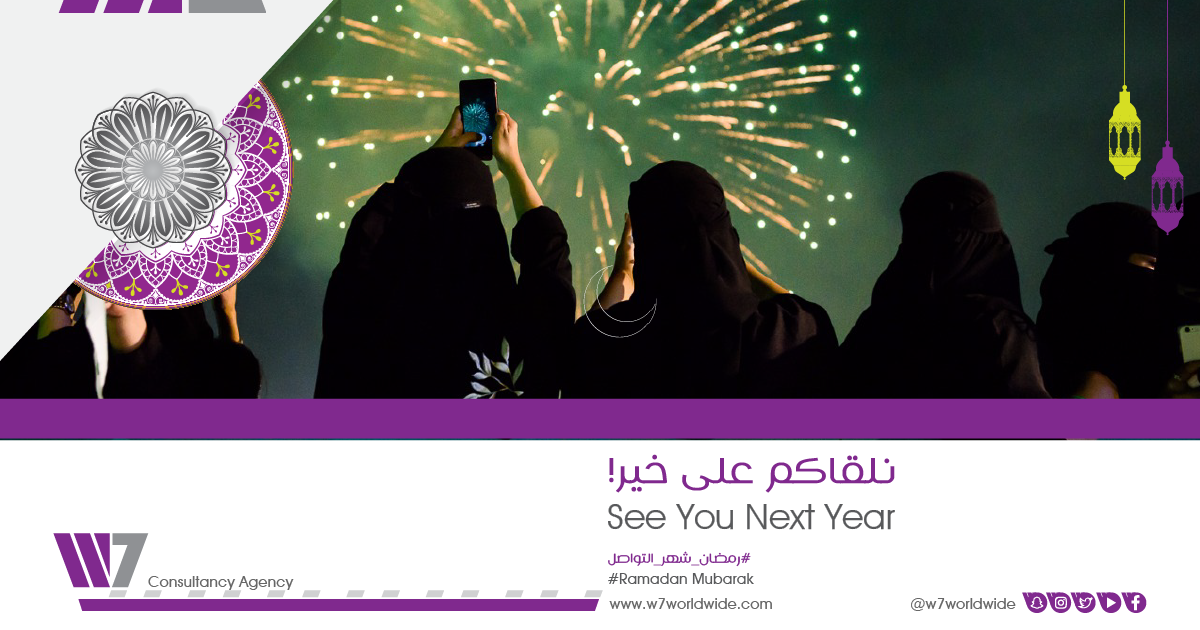 Our series for the year has been concluded. The series covered the traditions, customs and the most important activities that the children and the people of the Eastern Province in Saudi Arabia enjoy. The customs and traditions are shared among the...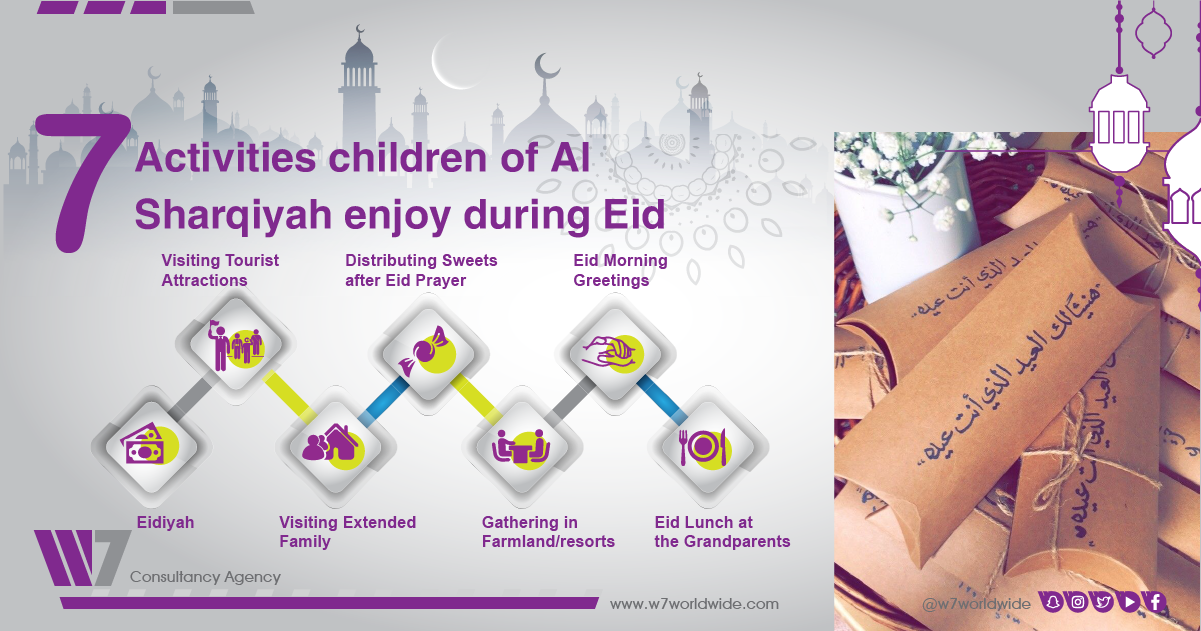 Eid Mubarak, May you always celebrate in good health and spirits. Children in Al Sharqiyah enjoy many activities during Eid Al Fitr, that are generally widely practiced across Saudi Arabia, the Arabian Gulf and Islamic World at large. The key...
The Al Sharqiyah region of Saudi Arabia is highly admired and known for its unique social connections. It is geographically adjacent to most Gulf countries, rich in cultural diversity and tradition, such as: 1)    Al Ghabga or Al Qirsh A...
The holy month of Ramadan is usually associated with performing the taraweeh prayer, witnessing the crescent moon, social connection, dieting, and enjoying iftar meals. All these associations are valid and encouraged. There are some behaviors...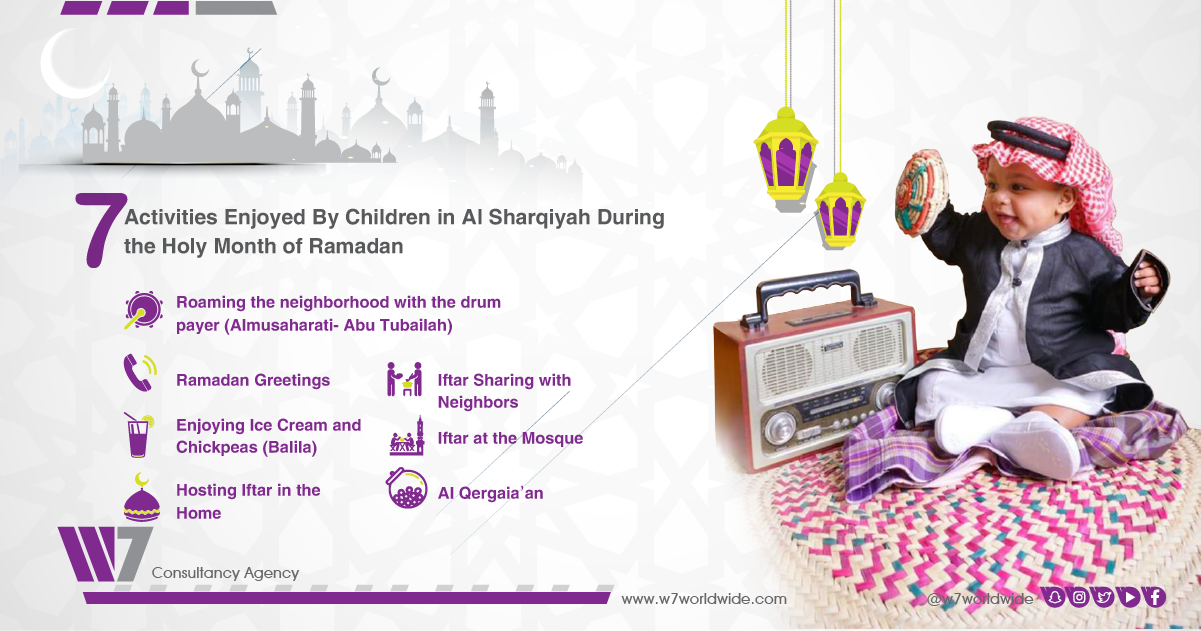 Ramadan is a month of connection, reflection and mindfulness. It is known to bring together families, neighbors and friends. It is an icon of tolerance, love, and generosity. It is also a month of getting closer to God and doing good to His...
W7Worldwide Marketing Communications Consultancy Agency produced a short video clip in conjunction with the 1439 H Hajj season, not exceeding 3 minutes, titled "Pilgrims in the Hearts of the Kingdom's Kings", which indirectly refutes all...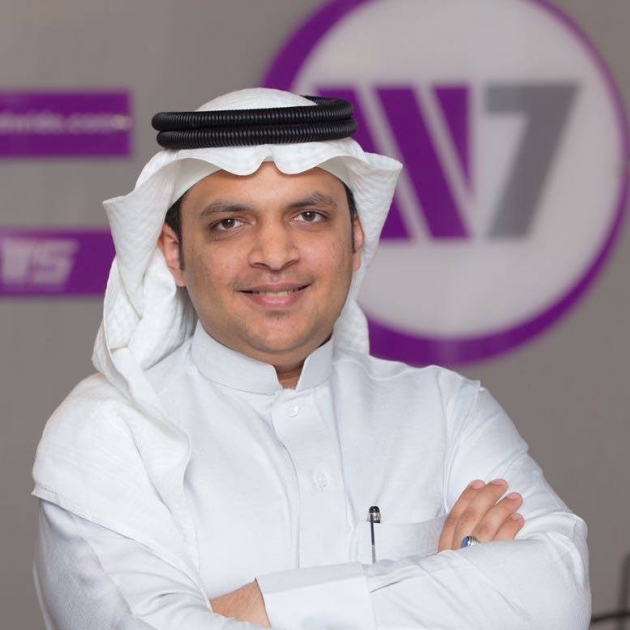 Relationships with the media should be built on a successful and fruitful partnership, rather than on operational needs and wants. Otherwise, the media will feel used as a tool to facilitate processes. Abdullah Inayat, Co-Founder & Media Relations...